With the significant increase in smartphones as a means of communication between individuals connected by an intimate relationship, we see an increase in domestic and intimate violence carried out by this medium. The growing research on this subject has led to many scientific concepts all aimed at defining this phenomenon. However, these constructs tend to be compared or used interchangeably. At the same time, studies have shown that these multiple pluralities of constructs contribute to constraints in the interpretation and comparison of results between studies to obtain a consensus.
For this reason, researchers Rocha-Silva, Nogueira, and Rodrigues (2021) set to carry out a systematic review to 1) identify the scientific constructions linked to intimate violence through technology 2) identify the behavioural dimensions developed to analyze this phenomenon.
The researchers compiled 126 studies, identified 42 concepts (Table 1), and 20 multidimensional behavioural sets, all related to domestic/intimate violence committed through the medium of technology.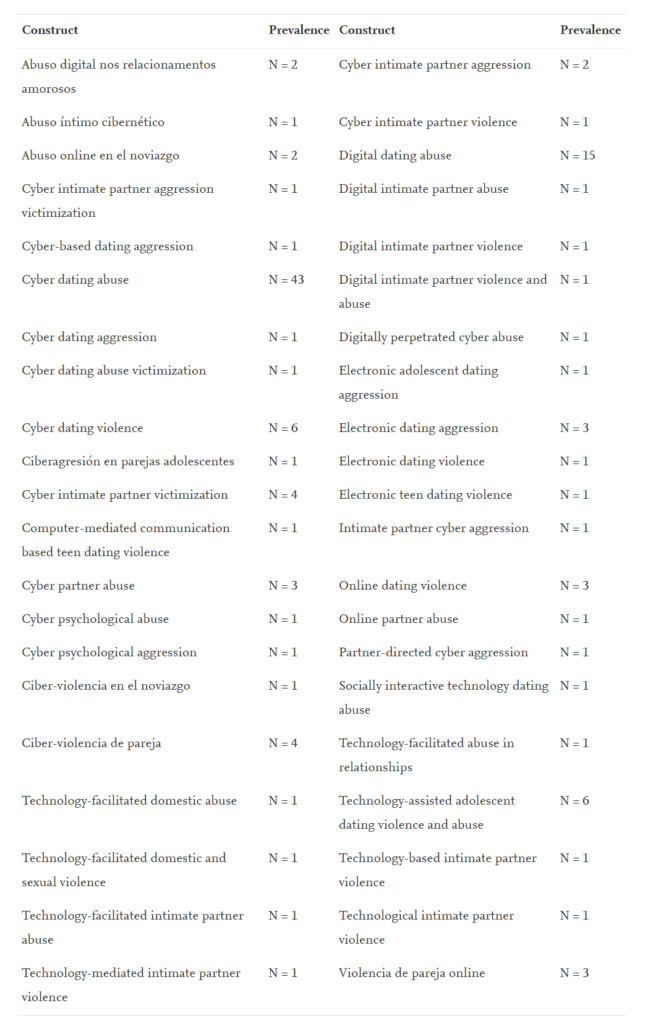 The researchers concluded that there are subtle but significant differences in the definitions found in scientific articles on this topic. For example, the concept of adolescent dating violence based on computerized communication is defined differently in three publications. To meet their research objectives and unify scientific definitions, researchers come to a consensus that Zweig et al.'s (2013) formulation are the most appropriate, considering that their definition takes into account the three fundamental elements of domestic/intimate abuse via technology: 1) a digital element is involved 2) an intimate relationship element 3) an abusive element.
As in every study, this one has limitations such as the limited definition of intimate relationships, illuminating certain behaviours that deserve to be studied, and a sample of individuals understudy that is very homogeneous in terms of age. Studies including more participants of various ages could better represent the results in the general population and not only be aimed at young adults/adolescents.
To cite: Rocha-Silva, T., Nogueira, C., Rodrigues, L. (2021). Intimate abuse through technology: A systematic review of scientific Constructs and behavioral dimensions. Computers in Human Behavior, 122. https://doi.org/10.1016/j.chb.2021.106861