According to a report from the Office of the Privacy Commissioner of Canada, in 2018, 92% of Canadians expressed some levels of concern regarding the protection of their privacy. However, some individuals frequently exhibit behaviour which places their data at risk. This disparity between claimed concern and practical action is called the Privacy Paradox. The Privacy Paradox is defined as the "discrepancy between the expressed concern and the actual behaviour of users". This paradox usually happens due to a lack of awareness and poses a particular risk to new technologies such as wearables as they can be both novel and unfamiliar. Smartwatches offer plenty of functionality. Nevertheless, they can also store a variety of personal data, from text messages to contact details. However, users rarely use available settings to protect their privacy.
Research suggests that increasing awareness should address the Privacy Paradox. Indeed, awareness can highlight the existence of a particular risk. However, this is often insufficient to change privacy behaviour.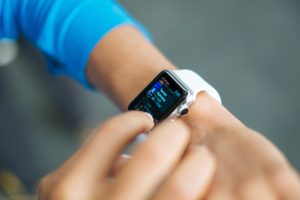 In order to address the awareness challenges regarding privacy behaviour, the authors developed an online prototype of a smartwatch game. Through this app, they evaluated the behaviour change of participants. To achieve this, they first compare concerns and behaviour in pre-test and post-test. Then, they compare the treatment group results against those of the control group.
The treatment group received a customized privacy game, including challenges to refine behaviour. The control group received the same app, but without the privacy theme.
During pre-test, ten individuals were given a smartwatch. Once the configuration was complete, the monitoring app was installed on each device. They then distributed a concern questionnaire to each participant. The result of the pre-test questionnaire showed that although screen locks were used by some, 60% neglected the feature. GPS was used constantly by all individuals, enabling their locations to be identified. In the case of permissions, settings were loosened rather than tightened.
At the end of the research, the authors distributed a concern questionnaire identical to the pre-test in order to analyze whether opinions changed as the study progressed. They then conducted semi-structured interviews to explore behavioural rationale. The results of the post-test showed that participants have a greater recognition of how they are acting. Because protection was used more frequently, concerns and behaviour realigned.
Although interventions might adjust behaviour, they can lose efficacy once their importance decreases. As participants forget about the educational game, they might decrease their protective behaviour. However, the game also aimed to enhance individuals' self- efficacy. Even if participants lack the immediate desire to guard their data, it is valuable that they have the know-how.
Cite: Williams, M., Nurse, J.R.C. and Creese, S. (2019). Smartwatch games: Encouraging privacy-protective behaviour in a longitudinal study. Computers in Human Behavior, 99, 39-54.